Hi there,
After an eye operation recently, I found myself in a dark room for a few days with nothing to do but recuperate. With my most-used sense out of the equation, it was audio stimulation I craved. I let my mp3 player delve into the far reaches of my digital catalogue and draw out musical memories I may never have chosen had I had the sight to do so. With nothing else to distract me, I could let the music wash over me and swell up to fill every second I lay there in the blackness. And that's when I become besotted - all over again.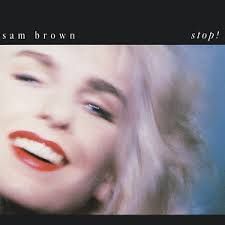 I'm pretty sure I'm not the only one who, after hearing a song called 'Stop!' on the radio in 1989, promptly decided that I wanted to become a singer. Lush, passionate arrangement, angst so deep a teenager could get lost in it and delivered by a platinum-haired goddess with a whiskey-angel vocal. Sam Brown became my idol from that moment on. 
But you know how it can be as the years go by. New infatuations were always around the corner. Neneh Cherry was quite a crush and there was that ongoing affair with ABBA. At one stage I was mad for Massive Attack and Madonna. Ella Fitzgerald had me playing in a different field and was definitely more than a flirtation. I was passionate over Portishead and my liaisons with Garbage and Goldfrapp will always hold a corner of my heart. I'll never forget the heady days of my dalliance with David Bowie and I have long had a soft spot for Shivaree. 
But true love never really dies, and lying there in the dark and rediscovering the music of Sam Brown was like finding a dog-eared love letter that had been forgotten in the pages of a book. I fell in love all over again. 
Oh, and yes, I did become a singer.
xAmanda